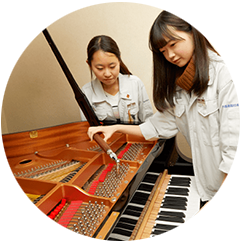 1979
Established as Chubu Gakki academy.
1980
Under licensed from Aichi prefecture; name changed to Chubu Piano tuning school.
1983
The first student sent to Naples Italy to study piano tuning.
1986
Open summer camping center in Nagano Prefecture.
1986
Exchange program with Taiwan piano tuner organization and They came to our school to study.
1987
Addition to Piano tuning course, brass Instruments repair, Guitar craft course was added to school and change name to Chubu musical Instruments of Technology. It is specialized school for musical Instruments to offer education in musical Instrument Industry. With experienced teachers and new technology, we offer superb educational system and our students can concentrate to become key Industrial person.
1989
10th Anniversary and name changed to Chubu Technical Academy of Musical Instruments.
1991
Mr. Anton Cunel (Conductor) was invited to have special session for conducting method at school festival.
1992
Mr. Oppenzamer (first clarinet In Wein philharmony) visited school and held special seminar and playing.
1993
Sponsored by 4 major piano companies in the world (Yamaha, Kawai, Steinway, Bosendulfer, to have special concert at school festival.
1994
Special seminar for wind instruments music by Mr. Akiyama. Attend more than 100 music teachers.
Established friendship relation with Nangking Art Academy in China.
As 15th anniversary event, host special seminar Managing music store was held for major music dealers in Japan.
1995
Mr. Ryu who is head of piano tuning at Nangking Art Academy was visited for study at our school.
1996
Under joint management, we open Piano tuning academy in Nangking China and Mr. Iwata became president of school. Opening ceremony was held in China and more than 50 industry and related people was attend the ceremony from Japan.
1997
Invite Gemmiti brothers from Italy for special piano duo concert at school festival.
Charity auction was held and all sales was sent to Malaysia educational office as musical instruments
1998
Bought 2nd main building for guitar and piano courses.
1999
Co sponsored with Ceramic musical Instruments association held special concert with ceramic musical instruments as 20th anniversary.
2000
Special seminar was held for music dealer owners and about 200 people were attended.
2001
Open Violin craft course
Special seminar for music dealer owners. Speaker was Mr.Sakurai president of Music trade magazine.
2002
Add 3rd building
2004
Open Learning total music instruments.
2017
Change the name to Creating Music Service course from total music instruments.