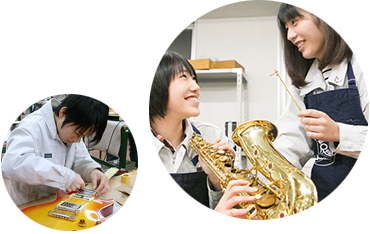 Creating Music Service course
This is our newest course to learn about the music service ,business and the technical skill for 3 years. You can study about many kinds, wide ranges of music, and Industly flow.
Piano Tuning Course
This is the course training to become piano tuning master who need basic technique for piano tuning and music background. Tuning to make perfect harmony and tuning for piano action, to maintain the best condition for playing and repair.
In addition, Piano tuner is the job to make trust with musician and players. We teach manner as businessperson for personal relations, music theory and history.
Woodwind and Brass Instruments repair
This course is for person who wants to become an engineer to work for music store to maintain woodwind and brass instruments. Usually it takes long time to learn repairing various instruments. We have special program to learn all method of repairing within 2 years. The instruments include sax, flute, clarinet, trombone, horn, and trumpet.